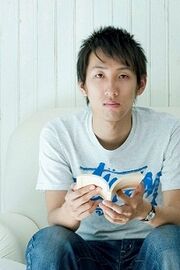 Ryō Asai
(Japanese:
朝井リョウ
Asai Ryō
) is a 27-year old novelist. He has written a total of twelve novels, in which two have achieved awards. He was a past graduate of the Waseda University in Japan.
He was born in the Gifu Prefecture, Japan on May 31, 1989. His birth name is Ryō Sasai (Japanese 佐々井遼 Sasi Ryō). He began creating picture books at the age of six and writing stories while still in grade school; soon he was submitting manuscripts to new-writer contests as he dreamed of publishing a book of his own.
He made his literary debut as a student at Waseda University, when his novel Kirishima Says He's Quitting the Team took the 2009 Shōsetsu Subaru New Writers' Award. He has kept up a constant stream of publications since his debut. When his novel Somebody was awarded the Naoki Prize for the second half of 2012, he was only 23, making him the youngest male author to have ever won the award.
Kirishima Says He's Quitting the Team (Japanese 桐島, 部活やめるってよ Kirishima Says He's Quitting the Team)
Somebody (Japanese 何者 Nanimono)
Cheer Boys!!

 (Japanese

チア男子!! Chia Danshi!!)
To Be Born Over (Japanese もういちど生まれる Mō ichido umareru)
Girls Don't Graudate (Japanese 少女は卒業しない Shōjo wa sotsugyō shinai)
Drafting A Map of the World (Japanese 世界地図の下書き )
3 of Spades (Japanese スペードの )
Martial Arts Hall (Japanese 武道館 Budōkan)
ままならないから私とあなた
世にも奇妙な君物語
星やどりの声 (角川文庫)
学生時代にやらなくてもいい20のこと